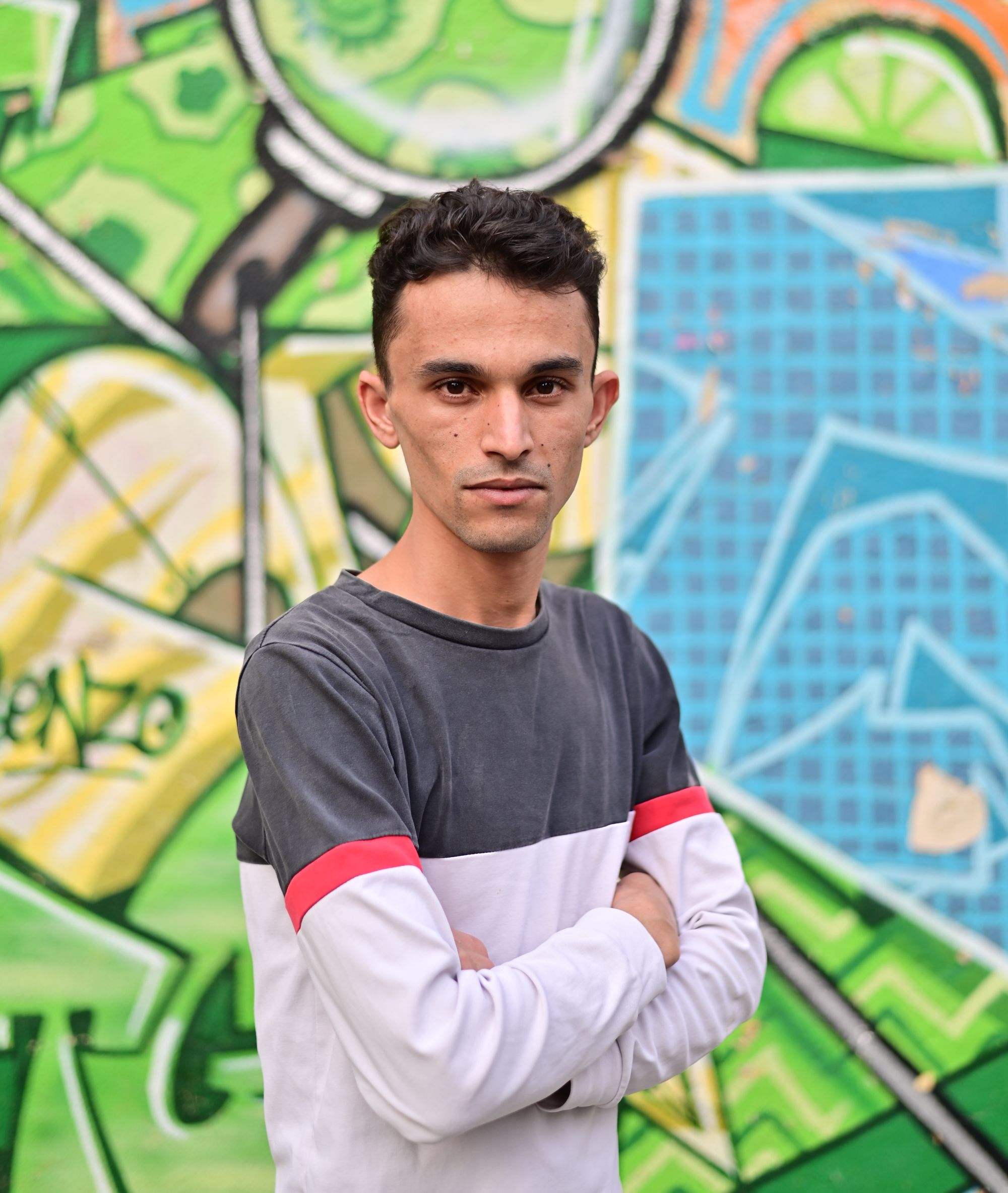 The Art of Transforming Al-Hasakah's Wheat and Hamra's Flowers into Poetry Books
At our first meeting, slim and brown-skinned Youssef was wearing a wrinkled shirt that mirrored his busy celibate lifestyle. Upon his arrival, he sat down quickly, and after some classic greetings, began to narrate his story as if he was writing a new book.
Youssef was born in the countryside of Al-Hasakah, one of the governorates in Eastern Syria, 600 km from the Lebanese capital city Beirut. He was raised in a small village bordering wheat and cotton fields as well as olive groves; in an area that has long been known for the fertility of its lands that are irrigated by the Euphrates river.
The young man belongs to a group known as "Al-Shawaya", a well-known pejorative class term often used in Syria. According to Youssef's father, these Bedouin groups that settled in the countryside and in the outskirts of the city preserved their customs and traditions that initially originated from Yemen. Youssef denies to have ever faced racism in Syria; "We all belonged to Al-Shawaya in my village, and I never knew Syria outside of its confines. Belonging to Al-Shawaya in Lebanon is a detail that no one pays attention to. They aren't even familiar with the term in the first place."
Being raised in a big family with nine siblings, Youssef loved his school and was extremely attached to it. He still recalls his Arabic language teacher, Mohammad Awad, who cared for him and nurtured his talent for writing and expression. His abilities were also nourished by experiences and images that invigorated his memory, and that none of his peers in the village shared. Since the age of twelve, Youssef no longer saw summer vacations as an opportunity to play and run around with his childhood friends in neighborhoods and fields, but rather as an occasion to travel with his older brothers on a long trip to Beirut. Dazzled by his surroundings, he practiced selling flowers in Hamra, a busy street at the heat of the capital.
It is documented that Syrian nationals have been working in Lebanon since 1948, after the country's independence more than seventy years ago. There are many factors that influenced this situation, including but not limited to: the difference in the nature of the two countries' economies as one is socialist and directed while the other is liberal and free, in addition to the deviation between the currency's value between the two countries and the related cost of living. For example, the minimum wage in Lebanon is viewed as a considerable income in Syria. Prior to 2011, the Syrian labour force in Lebanon was estimated at 400,000 workers, with numbers increasing during harvest seasons and declining during winter.
Syrian workers have rarely enjoyed legal work status in Lebanon. They usually enter on a temporary visit visa that does not allow them to work legally in the country; however, working "illegally" was condoned by officials. During the Syrian army's presence in Lebanon, legalizing the status of workers seemed unnecessary. Following this period, Syrian workers were subjected to harassment and various attacks from time to time. This was particularly controversial as many individual conflicts were followed by larger security incidents which the Syrian regime was accused of being behind.
Youssef, on the other hand, did not care about any of that. He spent his day in the streets of Hamra and its neighborhoods trying to sell roses to those who seem interested in buying, whether out of a desire for the flower itself or simply to encourage this young stranger. After a long exhausting day, he returned to a room in Al-Zarif, one of the many neighborhoods in Beirut, which he shared with his brothers, who also used to work in a nearby gas station. He continuously did that, day after day, summer after summer, until he received his intermediary prep certificate, also known as "Brevet".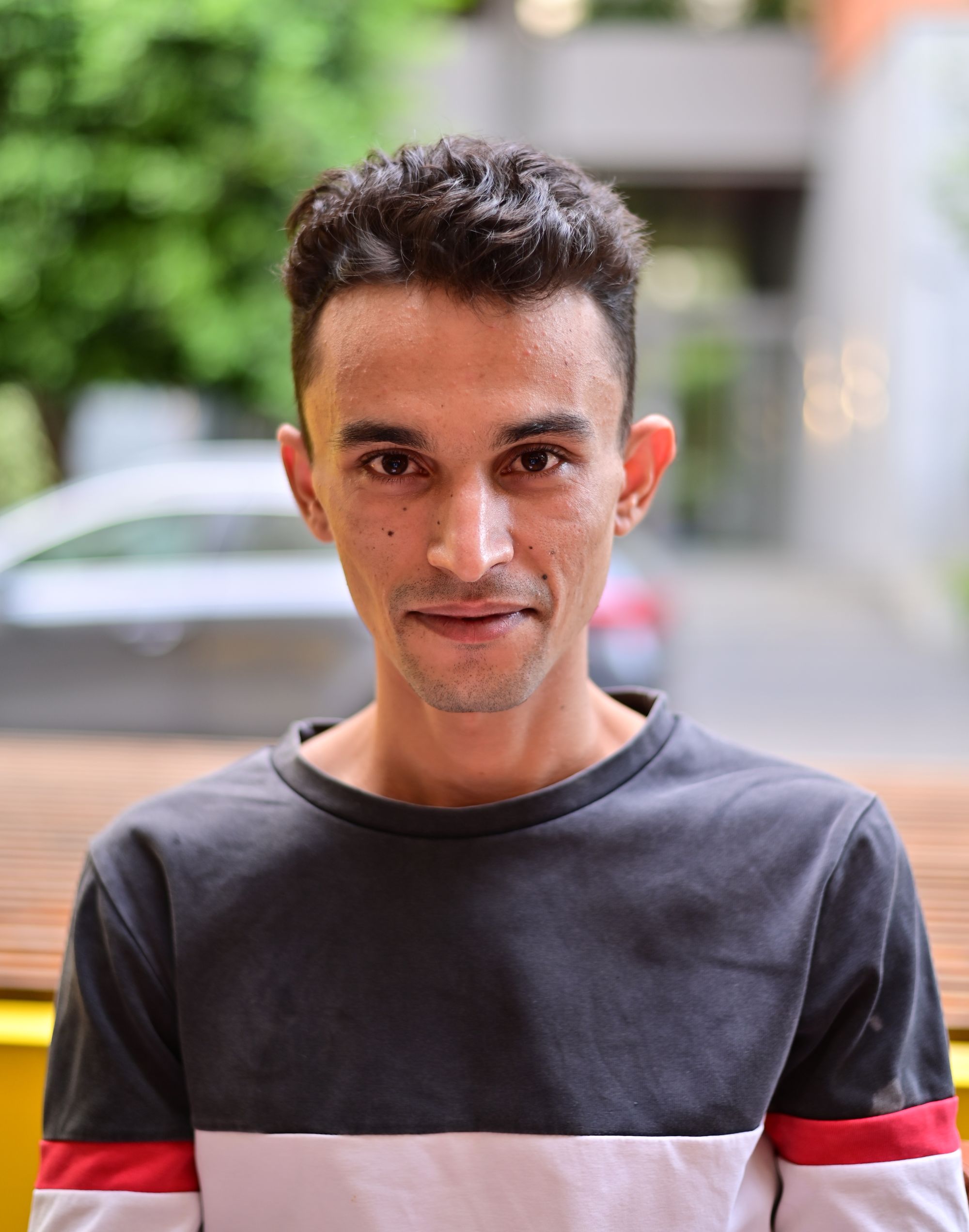 Youssef still vividly remembers a pivotal moment in his life; a day when he was walking around the streets of Hamra - Jean d'Arc street in particular – at the junction of Hôtel Gustave, where he spotted a dusty red book thrown on the side of the road. He picked it up, cleaned it, and spent hours taken by the verses of poetry inside it.
While sharing this story, he said with steadfast confidence that it was a moment unlike any other in his life and that "since then, a lot of things have changed for me".
This young boy's life had indeed changed after that moment. His time was then divided between work that was essential to cover life necessities on one hand, and reading as well as attempting to write on the other. Youssef remembers how the question that peaked his curiosity since he was a child motivated him to think and write. "When we were younger, we used to compete with each other by throwing stones. I was probably the only one thinking and trying to imagine where this stone ends up going!"
Seeing things from a different perspective is what identifies a writer, a poet, or an artist. "We look at the piano and see it as an instrument. Beethoven, on the other hand, sees it as music".
According to a study conducted two years ago, the number of children (under 18 years old) working in Lebanon is more than 100,000 – out of which one-third are Lebanese and the remaining two-thirds distributed among different nationalities, with an overwhelming majority of Syrians followed by Palestinians.
It is likely that these numbers have increased significantly, along with an increase in the overall number of beggars, in light of the economic crisis and the decreased demand for labour, whether for adults or children.
In work and street begging environments, children are exposed to multiple violations, including racism from employers and peers, exposure to work-related dangers such as contact with chemicals, excruciating physical effort that is not suitable for their ages and bodies, sexual harassment, physical and psychological violence, as well as deprivation of fair wage.
Youssef wrote a poem once and showed it to his older brother Sobhi who did not believe him. According to him, it was inconceivable that someone that young would be able to write such verses. The young poet was not offended because his brother was implicitly accusing him of lying. He shares the following, "I felt joy! My brother thought that these written verses are so good to the point where he could not believe that I was the one who wrote them."
Youssef received his highschool certificate in Syria in 2017. His still unfulfilled ambition was to attend university and become a psychology major. He worked as a barista in a café in Beirut, alongside practicing his hidden hobby of writing. He watched the movie "Good Will Hunting" and was influenced by the great talent of a humble hero. Consequently, Youssef was a little encouraged, and he sent his writings to several websites and newspapers but "did not receive any response" in return.
Youssef escaped racism against him as a Shawi in Syria, but was not able to escape that of the Lebanese against him in Beirut. He speaks of "racism in his daily life" and explains that "soft racism" comes from people he least expected it from – those who are generally educated, loving, and supporters of him and his journey.
They were afflicted, knowingly or unknowingly, with the practice of this "soft racism", "as if someone says: there is no difference between a Syrian or a Lebanese, but…" Everything that usually comes after this exception is utter, but "soft", racism.
This young man is indeed aware that there are racist practices in every country, and this is the case in Lebanon as well. There are a number of people who think or act in a racist way, but the circumstances of the party that is being "harassed" determines whether it is possible for the perpetrators to persist in their racist claims towards it or not.
It is all related to one's weaknesses – legal, material, and social ones. A racist usually knows whom to direct his comments to and when, and the inability to confront racist behaviour by legal means in a country like Lebanon encourages both its practice and persistence.
Youssef was able to buy a phone despite the high costs incurred by a young man with a modest income. He then explains, "I only bought it in case someone wanted to get back to me regarding the many writing samples I sent out". He wrote a short theatrical script about two refugees, where he portrayed an honest conversation between the two, and sent it to a Lebanese writer who was, at the time, in charge of the literary department in a local newspaper. Ten days later, he received a phone call from a number that starts with 01, Beirut's area code. The person on the other line said, "I loved your text, and we will publish it. I want you to visit me in my office at the newspaper's headquarters". Investing in a cell-phone was not in vain after all.
Youssef's career then took a different turn. He started free-lance writing alongside his regular day job. He jointly wrote a text for a documentary film and then had his first small collection of poetry published in 2013. It was an experience that he later slightly regretted as he considered it to have been a risky adventure. However, he points that "it was a necessary first step, similar to the one a child takes when he or she starts walking". Despite the fact that the book was not a commercial success, it did achieve a far more important goal for the young poet; "It finally made me believe that I was truly a writer!"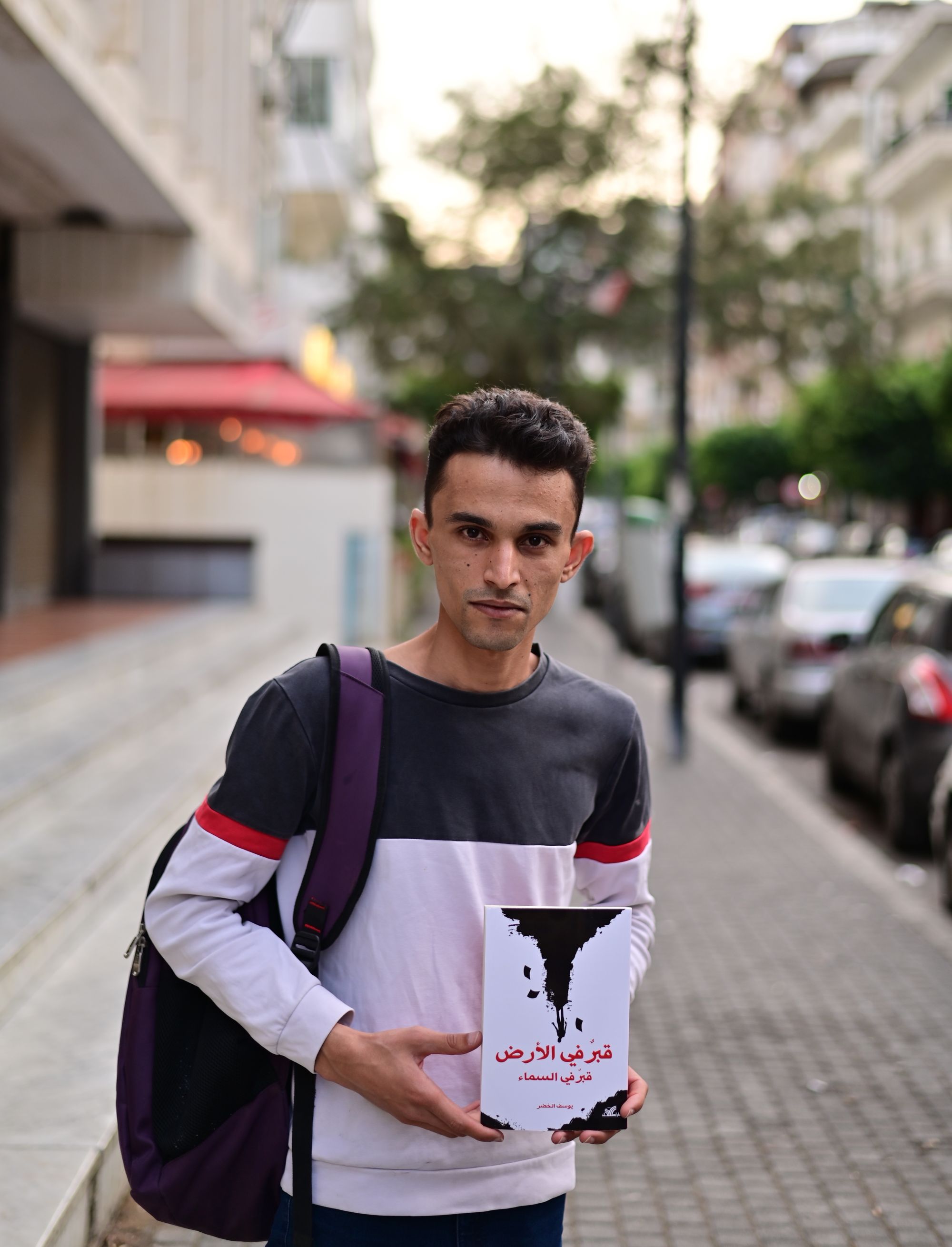 When he turned twenty, Youssef decided to become independent from his family and live on his own. He faced an expected difficult period financially; therefore, he stopped writing and seeing his friends and returned to selling roses. "I had one constant fear", he says, "the fear of someone who knows me as a writer to see me selling roses". It was mainly the fear of disappointing others as if selling roses was a bad or unacceptable behaviour.
The days passed, and it was time for Youssef to publish his second book. It was a culmination of everything that preceded the first book – a novel entitled Hamster – which took four years of writing and re-writing, as if it was his own biography telling the story of someone who left his passion for writing to sell roses.
The young man's third book, a collection of poetry, was published in 2021. In it, he was able to express himself better. It also received more credit for several reasons, the most important of which is the maturity of his experience in comparison with that of his first attempt.
Foreign workers, and Syrians in particular, witnessed a campaign by the Ministry of Labour a little over two years ago aimed at regularizing their conditions and limiting the spread of illegal employment. This campaign faced wide-spread objection from Lebanese employers who benefit from Syrian labour licenses, noting that the campaign came to a halt after the change of government.
With the beginning of the Lebanese economic collapse and the arrival of the COVID-19 pandemic, the conditions of Syrians in Lebanon reached a new and unprecedented low. Job opportunities decreased drastically and salaries became insufficient due to high inflation rates that hit the country. In order to adapt to the emergent situation, many Syrians and even Lebanese, resorted to negative coping mechanisms such as stopping spending on education and healthcare, reducing food expenses, and pushing children to work which was prevalent among Syrians before but generally worsened with the Lebanese collapse.
In light of local conditions in Lebanon and the stagnation affecting the political situation that is closely linked to finding solutions to manage the massive crisis and laying out exit plans, there does not seem to be any glimmer of hope regarding an immediate improvement of the general situation of Syrians in Lebanon – both the employed and the unemployed, as well as the young and the old.
Today, Youssef is looking for stability in a country where he feels safe. His dream of pursuing his college education in psychology in a "stable environment" still lives. The word stability is recurrent in this young poet's narrative. Why psychology, one might ask? He replies, "to understand myself and others more; it is a science that is very closely related to literature". And Youssef, despite everything, is, indeed, a writer.
After I saw what this World holds…
And heard what it offers…
After all I have been through,
I had to be a writer…
I couldn't find any other option…
I wouldn't have left this world in silence
I wouldn't have let all this pain be buried with me.