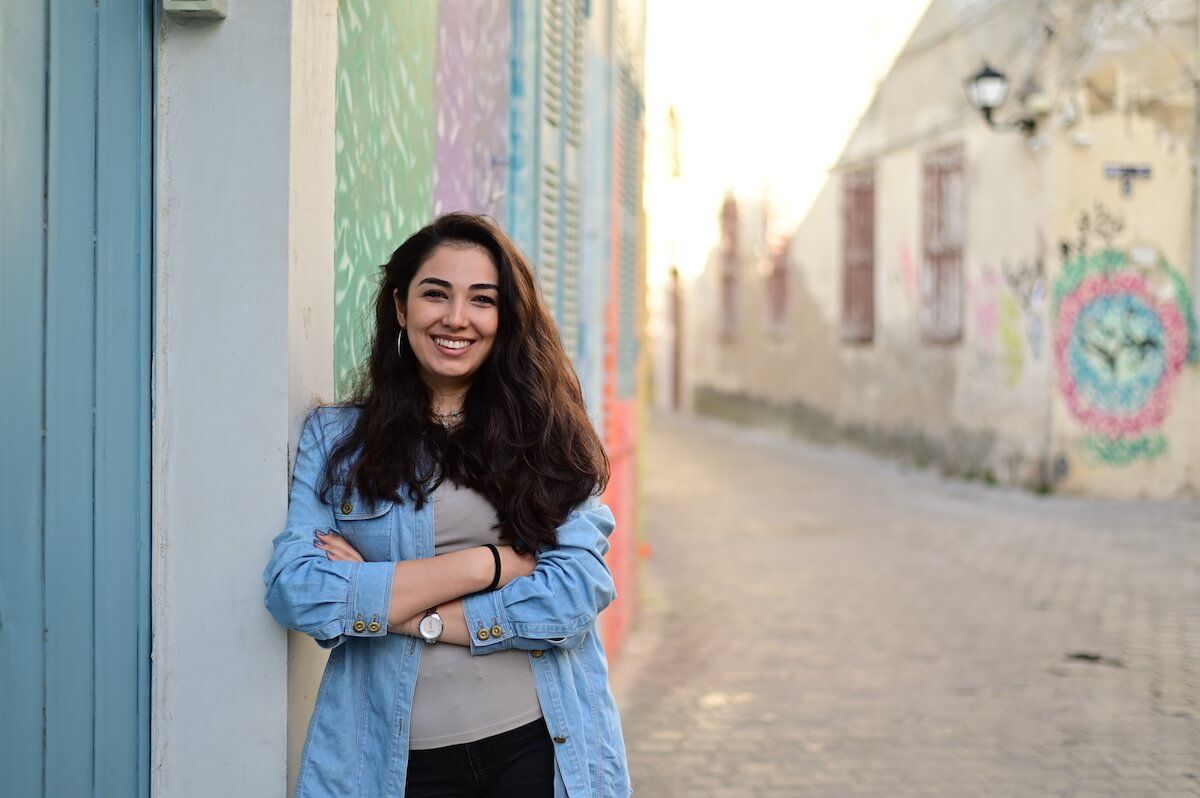 Between Homs and Tripoli: Hala chases her Ambition of a College Education
Hala and I met in "Workshop 13", a cultural café of her choosing, located in Al-Mina area in Tripoli. Not being far from the sea, the humid breezes emanating from there reach it quickly. This place does not resemble the stereotypical image of Tripoli, as it is made up of old stones and is beautifully decorated with unusual pictures and paintings. One can also spot a small piano by the library that is clearly propped up there to be used, and is not just considered as an additional piece of décor. Hala looks both comfortable and familiar with this place. Our conversation then starts over two glasses of peach iced tea.
Hala was born on a "special" day – as she describes it – on February 14th in the mid-1990s. Being the first child in her father's family, she was raised in the middle-class neighborhood of Jouret Al-Shiyah in the governorate of Homs. The first thing Hala remembers about the house that she grew up in with her father, mother, paternal grandmother, and aunt is the fact that she was continuously pampered by the latter.
This young lady from Homs describes her relatives as cultivated, some of which are well-known and highly intellectual. Her grandfather owned a library and was editor-in-chief of a local newspaper. He raised an educated family whose members could express multiple opinions and ways of thinking – from the believer, the non-believer, and everything in between – all living under one roof.
After describing her family and her home, she goes on to paint a picture of her bigger surroundings. Hala talks about the calm and conservative atmosphere of Homs and explains how her view of the area is undoubtedly linked to her view of the cities she came to know later after she left her hometown, which she considers as a defining moment in her life.
Hala's family decided to leave Homs when she was just fifteen and a few months old, "with the arrival of weapons and the start of shootings, we left out of fear for ourselves. At first, we left Jouret Al-Shayah, then Homs towards Damascus, before we finally settled down in Lebanon." Having relatives scattered in both Lebanon and Syria played a key role in the family's itinerary, which eventually landed them in the house of Hala's second aunt in Tripoli. At first, they were all confident that "this would only be for fifteen days, and that we would return as soon as things calm down."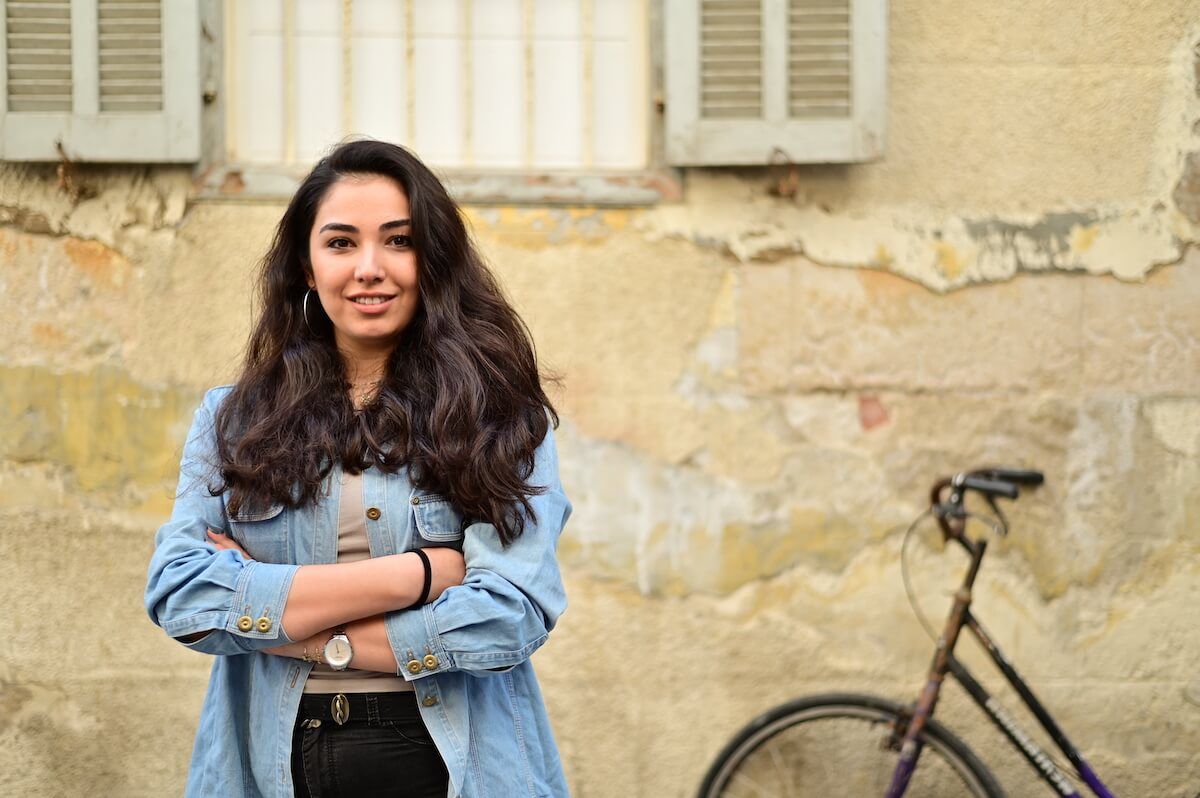 Hala feels that she did not grow up in Homs which she forcibly left quite early in her life. She also considers that she did not grow up under "normal circumstances", nor did she live her teenage years like other girls her age did.
"Life's pressures and requirements forced me to mature and grow up quickly. I couldn't do most of what I wanted to do because there were more important things to tend to that simply could not wait!", like finding a school to continue her education, keeping up with the scourges of war and other related news, in addition to dealing with all difficulties accompanying displacement.
Although the conditions of their refuge were much easier than those of other families, this does not mean that Hala and her family were able to overcome the lack of much-needed stability in their life. However, she says, "It is true that war is a negative and painful experience, but it is sometimes a necessity in the march of people. It helps them recover and regain their strength." In Hala's situation, seeking refuge in a country like Lebanon taught her a lot and contributed to the development of her personality.
According to Hala, the society in Homs is quite homogeneous. In other words, "you will only know people of your own kin" – they are similar to you in everything, with barely any visible differences. On the other hand, diversity in Lebanon imposes itself in everyday life allowing both Lebanese and Syrians from different backgrounds to interact on a daily basis. This is not the case in Syria, especially for young people of Hala's age.
Hala's family had to go back to Homs due to economic pressures; however, they did not impose the decision of returning on their daughter, who eventually decided to stay. For Hala, returning to her hometown would be returning to something different from what she had started getting used to in Lebanon, which may be simultaneously difficult and interesting. In other words, it is a learning experience that develops an individual's personality. In addition, economic difficulties in Syria at that time were more challenging than those in Lebanon; meaning that returning "would automatically hinder the process of moving forward."
Despite all of that, she did return to Homs for a short period of time to sit for her official exams and obtain her highschool diploma. During her time there, tensions and bombings were a daily occurrence. Furthermore, luck was not on Hala's side as her exam center was located in the sensitive neighborhood of Bab Amro, "where I had to study and undergo my exams with the roaring sounds of warplanes and shelling." However, she did what she had to do, received her diploma, and came back to Tripoli.
At eighteen years old, Hala started working small jobs like packing nuts in a roastery. This was something she had to do to secure basic necessities and a decent life, while her mind and heart were elsewhere: the possibility of having a college education.
Hala's story and her quest to enroll in a university is similar to the stories of many young Syrian refugees in Lebanon. In other words, her journey towards higher education resonates with other Syrians as well – with their various experiences intersecting on some points and diverging on others.
In fact, one can observe that college education for Syrian refugees did not receive the same attention that school education did, which might be due to the fact that the latter is compulsory, while the former is not necessarily for everyone.
Hala's choice of obtaining a university degree in Media Studies and fulfilling her childhood ambition of becoming a reporter in conflict-sensitive areas to convey the truth was like a dream. It might be that her grandfather's work as editor-in-chief of a local newspaper in Homs had an effect on this little girl's aspirations. Unfortunately, the inferior level and reputation of universities where Hala was given the chance to pursue this major pushed her to find another option. She ended up studying Social Sciences at the Lebanese University in Tripoli.
In reality, Lebanese universities can generally be divided into three categories: the public Lebanese University and all its branches, which has good standards at a relatively low cost; the private universities, some of which date back to more than 150 years, have really good standards but at a high cost; as well as relatively recent private universities which merge both political and financial influence, have low standards, and are usually labeled as "shops". These were exactly what Hala was trying to avoid.
In any case, Syrian students, prior to 2011, were familiar with the categorization of Lebanese universities, as many attended them because they resided in Lebanon. Others wanted to pursue specializations not available in Syrian universities, while some were unable to enroll in and adapt to the Syrian university system.
To secure basic necessities, Hala took on some temporary work like conducting interviews and collecting information for questionnaires intended for social research. Through her experiences, she was able to familiarize herself with the different aspects of the refugee and host communities, as well as with toxic masculinity as many frowned upon her "young independent woman" lifestyle. Furthermore, many people and organisations tasked with dealing and protecting refugees attempted to exploit this young woman coming from Homs.
After some time, Hala was unable to reconcile between her daily work and attendance requirements at the Lebanese University, which led her to halt her education after she completed courses designated for a year and a half in four years. However, work was her teacher, as she considered that "work educates you, helps you mature, and makes you human." At this stage in Hala's life, work seemed more important and more useful than anything else. Thus, she decided to postpone her dream to a later time, especially that it was impossible to continue her education at the Lebanese University, which has a distinguished level of teaching, but total inflexibility for working students who have to meet their needs and the needs of their families.
Stressful economic conditions on refugees impede their ability to pursue their education and force them to allocate their time to earn a living, which comes as a priority that outweighs education and any other need. In addition to various economic challenges, refugees find themselves unable to obtain sufficient financial resources to pay their university fees.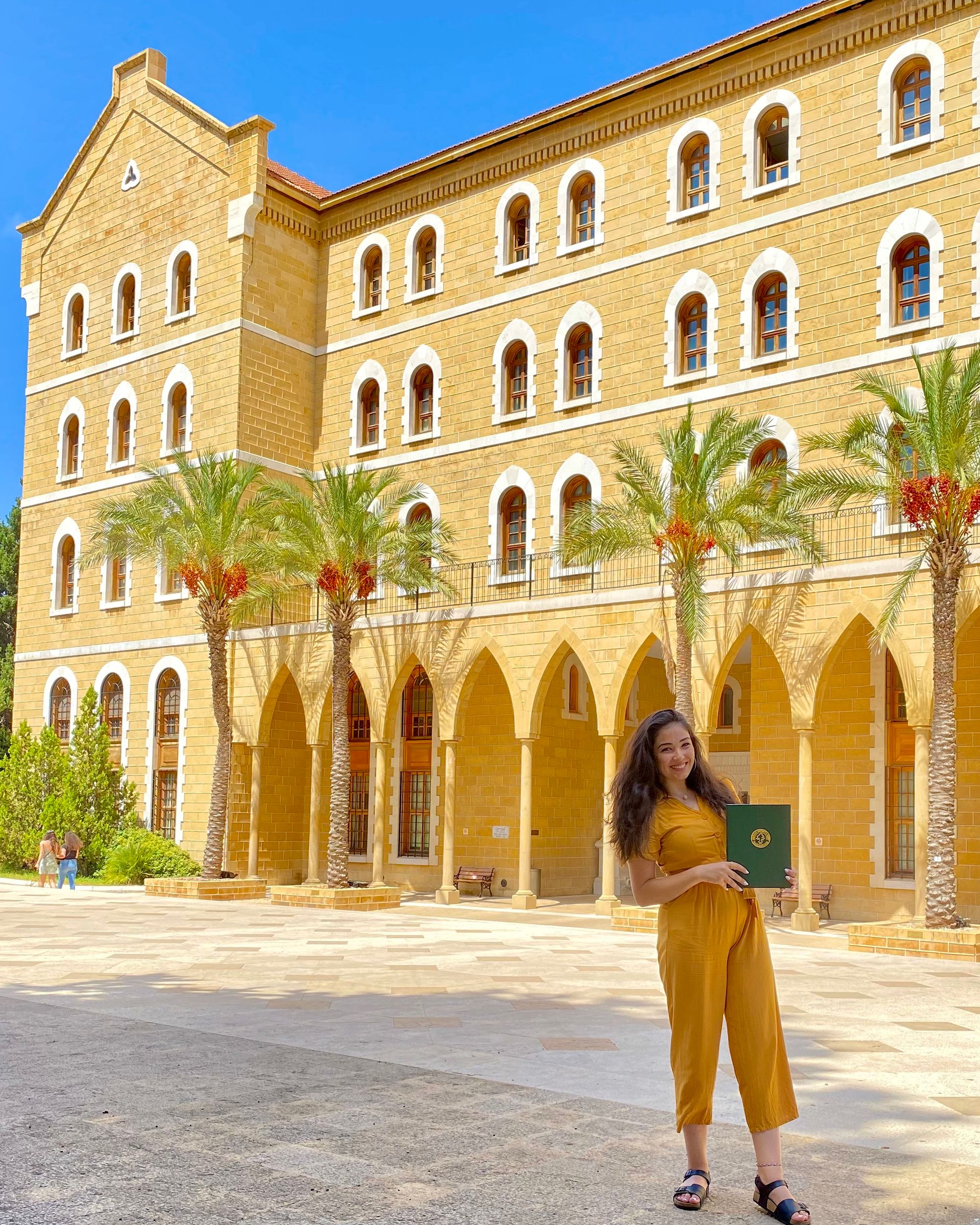 Furthermore, the worsening economic situation in Lebanon during the past two years due to the Covid-19 pandemic, the financial collapse, and the consequences of the Beirut port explosion put additional pressure on the most vulnerable refugees and citizens, widening by that the gap that deters them from pursuing their education.
These difficulties affect not only Hala, but all Syrian university students in Lebanon. According to a study by the Issam Fares Institute at the American University of Beirut in 2019, there are 7000 Syrian refugees registered in Lebanese universities, meaning that only 6% of Syrians aged between 17 and 24 (out of 117,000 refugees) are pursuing their higher education. On the other hand, the proportion of Syrians within the same age group who studied in Syrian universities before 2011 was 25%.
In addition, another major obstacle to Syrian refugees enrolling in Lebanese universities is their weakness in foreign languages (French or English). Most university curricula in Lebanon are presented either partially or fully in a different language than Arabic. However, Hala's pro-bono work in associations that hosted foreign volunteers helped her develop her foreign language and apply for scholarships outside of Lebanon. Regrettably, she was not able to receive any acceptance to pursue her education abroad. Despite the fact that rejection was frustrating to Hala, this did not stop her from seeking to study at a reputable university, which offers not only a diploma, but a real education and peace of mind.
In current circumstances that Lebanon has been passing through for about two years now, one can notice that the percentage of university scholarships granted for Syrian refugees has declined, despite that fact that they were previously less than what was required, according to an official in a Syrian educational organisation who preferred not to mention her name. This decline could be attributed to the donors' interests in other projects, the general decrease in funding, and the increase in needs to provide assistance in areas considered more vital to the survival of refugees such as food and medicine. Moreover, it can be noted that donors tend to support vocational training for Syrian refugees aged between 17 and 24 instead of investing in scholarships, as they consider university education to be more costly and less effective. Last but not least, banking restrictions accompanying the Lebanese economic collapse made it even more difficult for necessary funding to reach the few grants allocated to Syrian refugees, while some were redirected to more urgent needs.
Still, Hala did not waste time waiting for an opportunity or a scholarship. Motivated by her love for children, she committed herself to attending relevant courses at the American University of Beirut, thus building a scientific experience about learning difficulties and the appropriate ways of dealing with them.
In addition to the difficulties encountered by Hala while pursuing her college education, there are other obstacles that Syrian students in Lebanon suffer from. These include the inability to obtain official papers that were lost in the war and the difficulty to renew residency papers in Lebanon due to high costs and bureaucratic complications. Such matters limit the ability of Syrian students to move around and subject them to legal accountability and arrest at security and military checkpoints.
It is also paradoxical to mention here that some refugees formally register in universities without intending to pursue their education, hoping that this will facilitate the process of obtaining a student residence permit that will allow them to move freely.
Passing through multiple experiences and witnessing the conditions of refugees as well as the work of civil society organisations, Hala now dreams of specializing in public or international relations, in Britain or Canada perhaps, who knows what the future holds for her? Her dream is still to convey voices and deliver the truth, but in different means.
Hala avoids thinking about the pressures of everyday life and the necessities of work that sometimes push her further from her dream. Her perseverance towards achieving her ambition pushes her to wait patiently for an opportunity or moment that will allow her to continue her chosen path.